Power Monitor
Power Outage app will monitor power outages/failures and when power is restored.
Fast Operation
Plug in the charger and press play. The rest leave them to Power Outage app.
Be Protected
Lot of times electricity power is a matter or protection. Be ahead and informed.
Flashlight
A handy feature right there when you need it in a tough time of a Power Outage. It is there for your convenience.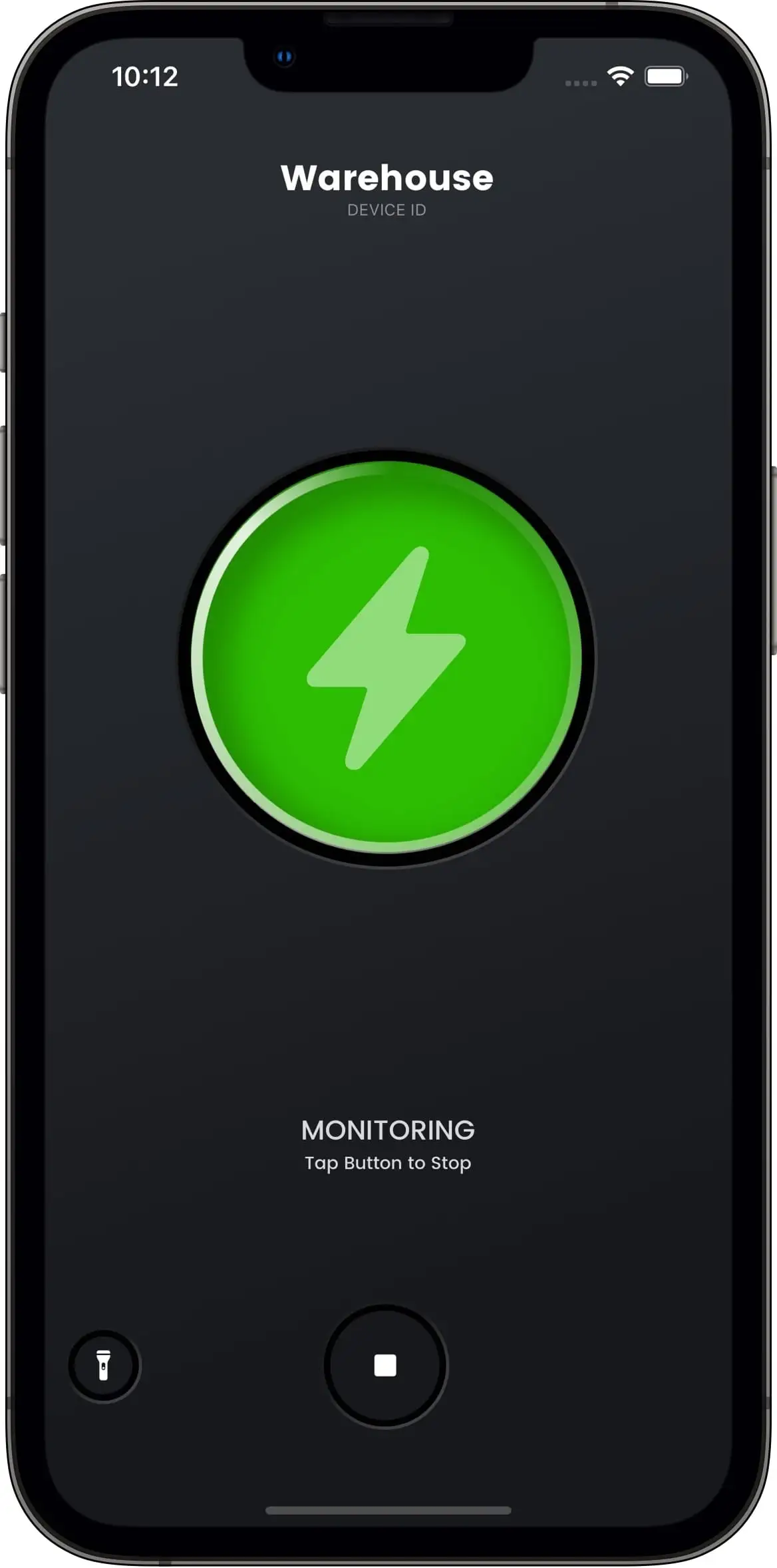 * Green means Monitoring for Power Outages
Notifications
You will receive power state notifications when power has failed, restored, start & stop monitoring and more.
Telegram
The latest addition for instant notification the moment it happens. See Telegram below
Email
You will receive informative emails for every monitor state.
Alarm
Audio & Visual Alarm for power outage / failure. Enable it and test it before you start monitoring.
---
What is Telegram?
A messaging platform that is fast, reliable and online all the times.
Instant Notification
It takes less than a second for a message to arrive from Power Outage. That is fast.
Security above all
Telegram is one of the safest messaging platforms where your data remains your data.
Why Telegram?
You can use an old device as a monitor and your main device as a messages receiver. Pretty convenience setup. Read FAQ below for How.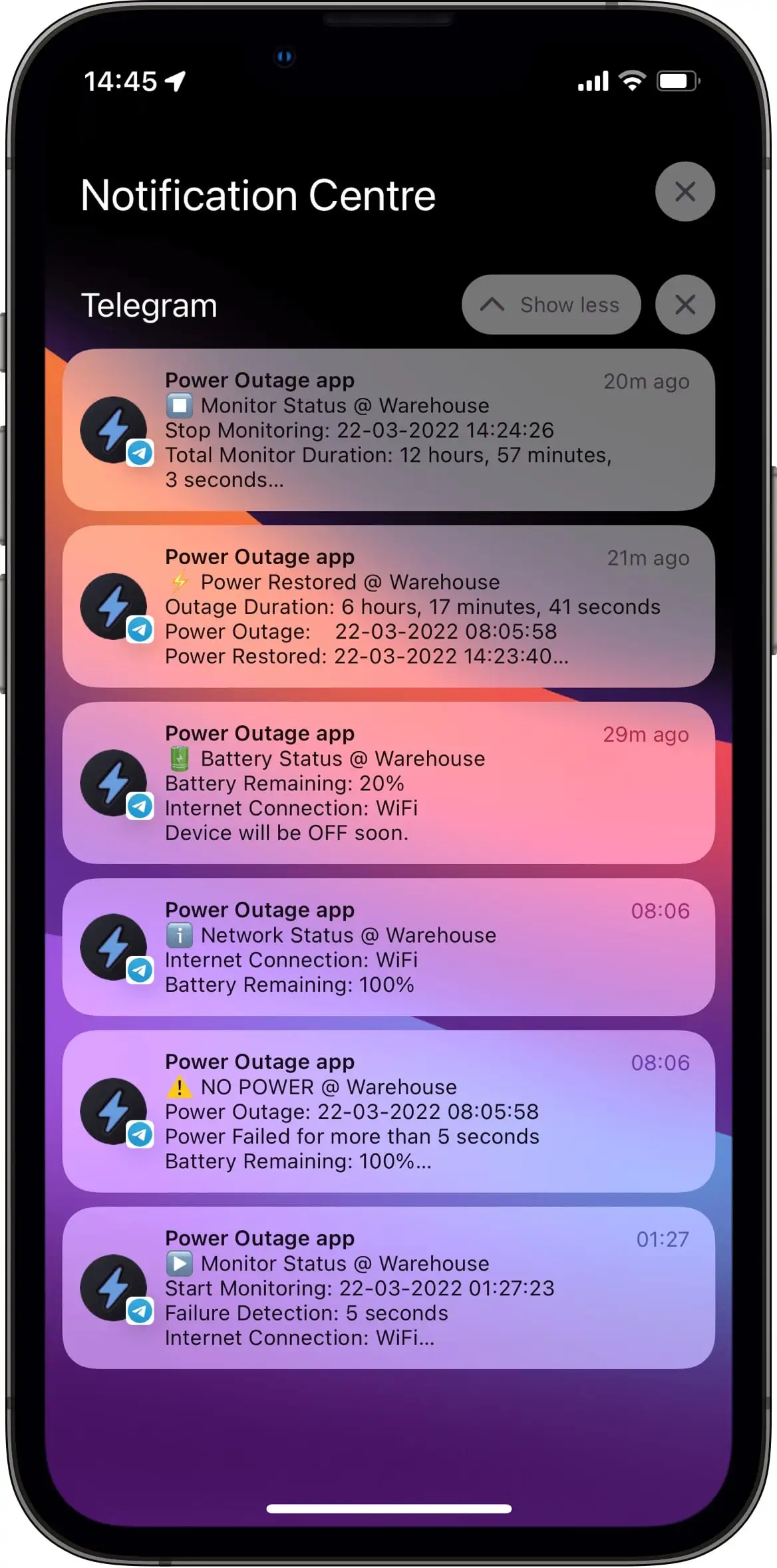 * Real Life Notifications from Telegram
Start & Stop Info
When Play or Stop is pressed (human intervention) an informative message will arrive.
Power Monitor Info
When a power outage or restoration is occur (automatic function) an informative message will arrive.
Battery Info
If battery is gets 20% a message will arrive.
Internet Info
It is recommended to use both WiFi & Cellular Data. When there is a change a message will say so.
Device ID
Setup a unique name for monitor device. You can use multiple devices. This name is used in notifications.
Alarm Duration
Duration for the alarm to be displayed. Default is 5 seconds.
Alarm Sound
Enable or not. If enabled this sound will definitely wake you up.
Help
A button directly to the helpful FAQ page. With all the information you need.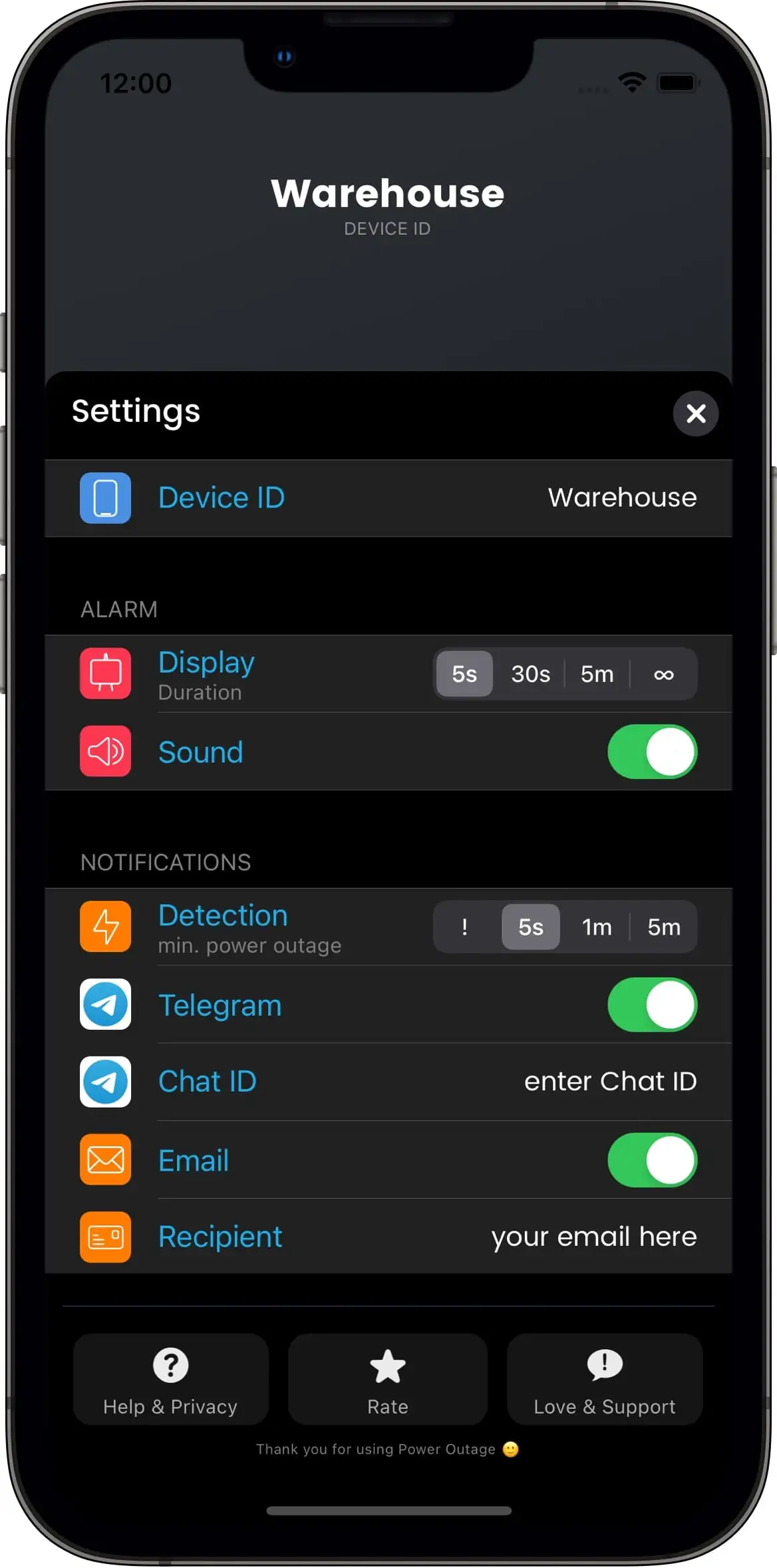 * Thank You for Using Power Outage 😀
Detection Sensitivity
You need to avoid micro-outages? Set it at 5 seconds or more. Whatever suits you.
Telegram
Enable it & enter ChatID to receive Telegram messages in Power Outage's Telegram bot. Very handy, see FAQ for detailed procedure.
Email
The good old email notifications, just enter your email. Also Press TEST in main screen to see what happens.
Support
If FAQ is not enough, we got you covered. Send in your message directly to Support and soon you will get a response.
---
With baby chicks under heat lights, a delay getting them warm after a power failure could be deadly. I needed something simple. I just need to know when the power goes out. Nothing more. In this remote setting, any time the weather changes, the power can go out. This app allowed me to sleep, knowing my chicks were warm and safe. Thanks!

The app is working perfectly for our coffee truck. It alerts us if we have a power failure while our coffee truck is in storage. We can respond before the water lines freeze and before the temp in the fridge gets in the danger zone. I can now sleep at night when the temp drops below freezing. Thanks!

At times with a lot of rain this is exactly what I needed to sleep. With the sump pump going off every 45 seconds, I needed to know if we had a power failure, so I could hook pump up to a generator so water wouldn't overfill and flood basement. Thanks!



I use it to be informed when my home power is out. I have lots of stuff in deep freezer and sometimes the power is out not due to the main grid but because of a short time over voltage and fuses must be put back to on. This app lets me know and I can call my neighbour to check the fuses. Thank you.

Can not fault this app, alerts me immediately if power cuts, rcd tripped etc! can then have the time to sort out anything that requires sorting as Use battery back ups for important stuff so can reset trip with no loss of service or reset of devices.



Truly elegant software that does exactly what it says on the tin - very simply. Exactly what I was looking for.





5 stars because this app is awesome kai giati einai kai ellinas.. kai an den penepsoume to spiti mas... hahaha





Not only does this app work as expected but support is fantastic. I didn't know that the screen and app had to remain open but a quick email from the developer sorted that out. He even explained why it had to be that way. Thank you so much.


---